Accessibility Quick Links
Enhanced design
Our fresh design, simpler menu and improved navigation make it even easier to find what you're looking for. Whether you want to place a trade or do some research, you'll find what you need faster.
Seamless experience
No matter how you're accessing our website — desktop or mobile — your experience will be seamless. Our responsive design makes sure the Imperial Investor Service journey is the same across devices.
Improved accessibility
By supporting those with diverse challenges, we enrich the investment journey for all of our clients. To accomplish this we've added more with accessibility features including descriptive page titles and labels, alternative text and high-contrast colours.

Quotes and Research
Want to stay on top of the latest market news and trends? Then you'll want to check out this section.
Easily move between CAD and USD rates
The My Watch Lists tab now hold up to 20 symbols
The Trade button conveniently takes you to trade stocks, with the symbol and market populated
Commodities, now including oil, has chart capabilities, allowing you to spot trends and price patterns
Predictive symbol search makes it easier to find stocks



Opens as an overlay that can be accessed throughout Quotes and Research and from Account Holdings
Discover trends with the help of drawing tools
Save a chart template as your default view
On mobile, compare charts with indices and stocks
We know you like to use screeners, so new screeners are on the way.


Trading pages
Our trading pages have new features to enhance your investing journey:
Predictive symbol search makes it easier to find stocks
The Account selector now shows your account balances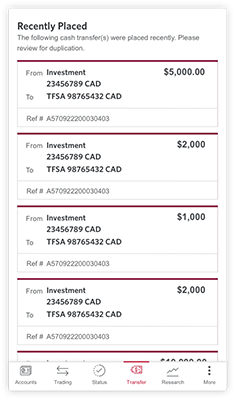 Cash Transfers
You'll need money in your account to make trades, so we've made that easy too — even when you're on the go. New to mobile, you can see up to 5 of your most recently placed cash transfers in one view.

Account information
In My Accounts, your information has been better organized, meaning your account totals are easier to find so you can quickly track your progress.
Accessibility benefits
By continuing to support our clients with diverse challenges, we enrich the investment journey for all of our clients. Here are a few of the accessibility features that you can take advantage of now:
Enhanced high-contrast colours make our site easier to read if you have vision challenges
Alternative text makes sure that important images can be interpreted by screen readers
Descriptive page titles and labels tell you where you are on our site
Plain and concise language makes it easier to find information and better understand it if you're new to investing
Error messages let you know what happened and how to fix it
Skip links allow you to avoid repetition and get where you want to go faster
Ready to tell us what you think?
We'd love your feedback.
Frequently asked questions
More enhancements are on the way
We're not done yet! Imperial Investor Service is working on even more updates to enrich your online investing experience.